Solving mainspring replacement issues.

Mainspring repair.

Advanced time train troubleshooting.

Advanced strike train troubleshooting.

Making clock tools on a lathe.

Professional burnishing.

Motion works troubleshooting.

How to replace the pendulum assembly.

How to professionally regulate the movement.

Understanding pendulum theory.

How to calculate the pendulum length.

Repair a broken or damage arbor.

Repairing loose parts.

How to use a Time Trax clock analyzer.

Advanced escapement adjustments.
This course contains all new and expanded information not addressed in any other courses.
How to order Go to the next page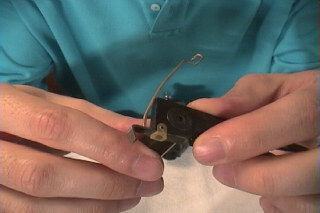 Repairs to the verge.
(actual frame from video)
PROFESSIONAL advanced clock repair video preview.
Music playing on the video preview is for preview only, not on the actual DVD video.
The clock repair course consists of 2 volumes for a total 4 DVD discs playable worldwide. Total course running time: 4 hours. A detailed 36 page instructional repair manual is included. The price is $99.95. Shipping is FREE to anywhere in the world via United States Postal Service.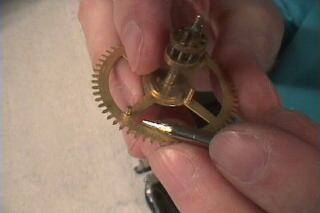 Repairing a lifting pin on the strike wheel.
(actual frame from video)