Straightening pivots and arbors.

Repairing lantern pinions.

Replacing worn or broken pivots.

Wheel tooth replacement.

Working with spring barrels.

Barrel tooth replacement.

Barrel hook replacement.

Soldering technique.

Clock repair using a lathe.

Pivot polishing on a lathe.

How to use various clock repair tools.

Alternative repair techniques.

Bushing movement plates.

Tools used in clock repair.
How to order Go to the next page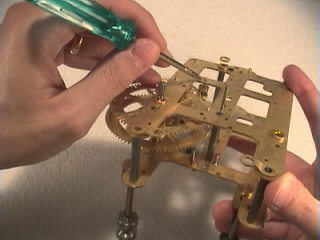 Examine the wheels and pinions.
(actual frame from DVD/video)
Click below if you cannot view this video from the links above.
Advanced Clock Repair video preview.
Music playing on the video preview is for preview only, not on the actual DVD video.
The clock repair course consists of 2 volumes for a total of 4 DVD discs playable worldwide. Total course running time: 4 hours. A detailed 38 page instructional repair manual is included. The price is $99.95. Shipping is FREE to anywhere in the world via United States Postal Service.