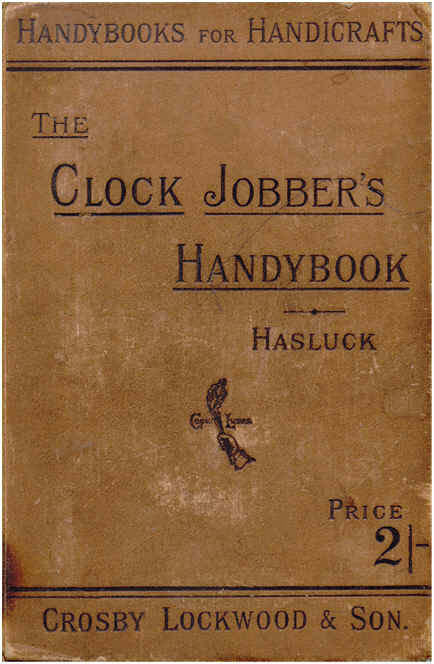 Hasluck, Paul N. The Clock Jobber's Handybook. London: Crosby Lockwood and Son, 1889.
PREFACE.

This Handybook for Clock Jobbers is written much upon the same lines as the volume in this series on Watch Jobbing. These two trades are very closely allied; and the information contained in one will often be found to have direct bearing
upon the subject treated on in the other, so that these two handybooks form companion volumes. The tools requisite for clock cleaning and simple repairing
are few and inexpensive; and but a small amount of practice will give the necessary manipulative skill. Thus clock jobbing offers an occupation easily acquired by those who have aptitude for mechanical subjects, and in the following
pages sufficient information is given to afford a guide to successful operations.
P. N. HASLUCK.
LONDON,
September, 1889.
_____________________________________________________________________________
Learn clock repair with these DVD courses! Course manuals are included.
Watch, study and learn antique clock repair through DVD course instruction using actual live repairs!!
Clock Repair 1 & 2 Advanced Clock Repair PRO advanced clock repair
Clockmaker Watchmaker Lathe Basics Clockmaker Watchmaker Lathe Projects Clock Case Repair & Restoration Wooden Works Movement Repair
© Copyright 2001-2012 by Tick Tock Productions © Copyright 2001-2012 by John Tope All rights reserved.
Note:
This book is provided for historical perspective and an understanding of clock repair horology past. Information contained within the book is not guaranteed to be accurate or correct accepted clock repair and restoration methods.
Clock repair taught in the courses by Tick Tock Productions are based on accepted practices by the National Association of Watch and Clock Collectors. www.nawcc.org. Restoration methods are based on accepted practices of the American Institute of Conservation. www.aic.stanford.edu.
Back to clock information page.